Lightweight scaffolding parts
Easy to stack
Common components of facade scaffolds, such as scaffold frames, have a high intrinsic weight and are an unnecessary burden on the daily work routine. Sooner or later, this can have an effect on the well-being of the construction site personnel. The PERI UP Facade Scaffold is a real lightweight among the steel scaffolds on offer and the Easy Vertical makes the assembly and disassembly process far easier due to its low weight. With PERI UP, the work can be carried out quickly and effortlessly. The scaffolding nodes built into the verticals can be used to connect up to 16 ledgers and diagonals: Many components can be connected with next to no tools, and without using couplings.
During transport operations, the PERI UP Vertical also demonstrates its logistical advantages: In contrast to frames, verticals can be stacked without leaving a lot of empty space, meaning that the free space can be used for other materials. This advantage applies both to the stockyard and to transportation by truck.
Proven in practice
Our customers are enthusiastic about the versatility and high level of occupational safety of our product.
René Schierstedt

Master Scaffolder and Site Manager

Very flexible

PERI UP Facade Scaffolding allows us to be very flexible with our working processes. And with the vertical variant, we can also assemble the internal guardrails required for the entire building in advance – this is easier for the workers because they can work without PPE and temporary assembly protection guardrails.

Mike Minning

Site Manager

High degree of flexibility paired with a high degree of occupational safety

On account of its complexity, it would not have been possible to set up this construction site with conventional frame scaffolding, or only with a great deal of effort. PERI UP Facade Scaffolding is highly beneficial in this respect: a high degree of flexibility paired with a high degree of occupational safety for my team thanks to the guardrail in advance. It is also worth mentioning that the cooperation between ourselves and PERI was excellent right from the very start when we were planning operations for the scaffolding required.
Versatility through variable scaffold widths
For example, thanks to the modular design, it is possible to switch between scaffold widths of 0.66 m and 1.0 m simply by using different ledgers. This improves the utilisation of the components considerably. Due to the metric grid of the PERI UP Horizontal Ledgers, the scaffold can be optimally adapted to the building envelope in 25 and 50 cm increments. In this way, facades with many cantilevers, balconies, bay windows and similar architectural elements can be scaffolded easily, quickly and safely. This makes them particularly versatile when it comes to meeting the different requirements of your construction sites.
"Louise" residential project

Oranienburg, Germany

Schattenberg Ski Jump

Oberstdorf, Germany

Refurbishment of station square

Zurich, Switzerland
The safety plus point
The advanced guardrail integrated into the scaffolding system ensures a high level of safety as early as the assembly phase on the construction site: the scaffolders are protected by the pre-assembled guardrail when entering the next scaffolding level, without the need for any additional effort.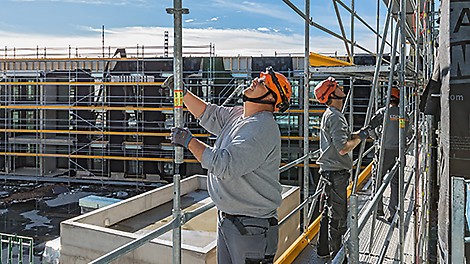 High levels of safety during assembly – for example here at the Prinz-Eugen-Karree residential complex in Munich, Germany.
Designed to bring you success, both now and in the future
Don't worry, everything comes together extensively in the PERI UP Scaffolding Kit. The Easy Vertical fits seamlessly into our PERI UP Scaffolding System and can be combined with the other components. As a result, there is no need to install a new system or replace an entire product series.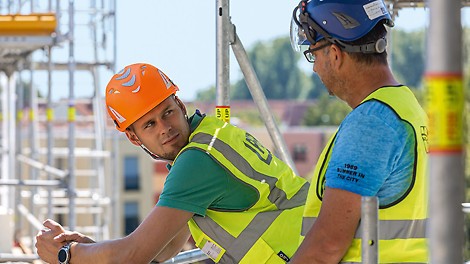 Close cooperation and competent support
Our sales engineers will support you with your planning and implementation work from the word go.
We also offer extensive global support and training. No matter whether you are looking for support and training for planning, calculation, logistics or the scaffold assembly, we will assist you with words and deeds on site or at one of our numerous training centres.
We are on site for you worldwide
We support our customers from A-Z - no matter where they are in the world. You will find detailed information about our products and projects on the individual country websites. We would be happy to help you too.