Our Key to Success
Development of potential and growth
Created by the people in our company. Because behind top products and innovative solutions, there are committed people who work self-reliably and add their strengths to the team. Behind the staff members, there is a management board that knows that every individual in the company counts: their personalities, their capacities, their further development and thus their satisfaction.
Why PERI?
Every staff member counts
You would like to realize your professional future in a growing and globally successful company? You would like to benefit both from the sustainability of a family-managed company and the international orientation of a global player? Then PERI is the right place for you.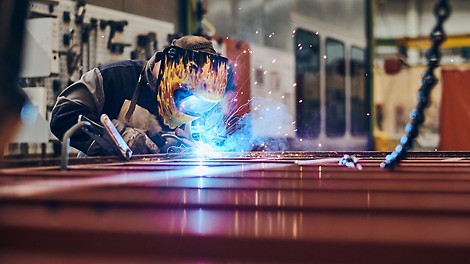 Among the World Market Leaders
PERI is internationally one of the largest manufacturers and suppliers of formwork and scaffolding systems. With more than 9,400 employees worldwide in more than 60 subsidiaries and more than 160 warehouse locations, we serve construction sites in 95 countries. PERI participates in exciting projects all around the globe – such as the expansion of the Panama Canal.
Every Staff Member Counts
The foundation of our success is our staff members who are characterized by highest motivation, expertise and team spirit in a global cooperation. The day-to-day collaboration is full of respect and understanding for each other and therefore forms part of our practiced corporate mission statement.
"Growing with PERI" expresses what we would like to offer to all our staff members, apprentices and students. At PERI, you can experience a wide range of career possibilities, self-reliable working and comprehensive project responsibility. You work in international teams in Germany and worldwide. Annual appraisal and development interviews with the staff member and our in-company PERI Academy with a vast offer of seminars make the systematic personnel development complete.
Value Added in Our Region
Although PERI is an international company, our headquarters in Weissenhorn near Ulm, Bavaria are and remain a key location for the creation of value in our company. Here, we develop highly qualified employees. Here our application engineers work out innovative solutions and here the largest part of our production and the shipping to the four corners of the globe takes place.
Employee Development
Seminars, trainings and workshops
Our employee development scheme supports the professional and personal development of every PERI staff member with the help of numerous seminars, trainings and workshops as well as consulting about further vocational trainings.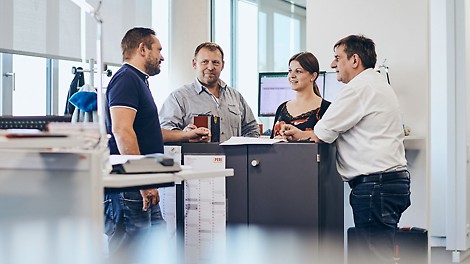 PERI Academy
The PERI Academy offers internal seminars for our staff members. Apart from software and language courses, we also offer seminars on topics such as soft skills and methodological know-how. The interdisciplinary participation leads to lively discussions between the staff members from different specialist departments. Furthermore, the seminar program is continuously being developed and extended, and here the feedback and ideas of our staff members and executives are decisive.
External seminars
It is possible to attend external seminars concerning topics that are not covered by the seminar offers of the PERI Academy. The HR department assists the staff members and executives in searching for and selecting according courses.
Possibilities for further vocational training
The motto "Growing with PERI" is also true for further vocational training. It is important for us to support our staff members in their professional development and their careers in our company. Therefore PERI sponsors long-term further education programs, such as for example the German academic degrees of "Fachwirt (m/f)" or "Betriebswirt(m/f)" or even a part-time study program, with financial means.
Internationality
Apart from the comprehensive seminar program our staff members have the chance to also expand their intercultural skills. In our many subsidiaries, sophisticated tasks and interested projects wait to be dealt with by teams and colleagues from all over the world. The foreign assignment can be limited to individual projects or can be expanded to a full-time international position.
Additional Benefits
Securing the future is an important aspect
Securing the future and also insurance against the consequences of an accident or occupational invalidity are important topics for PERI. We therefore offer an attractive range of site-specific company benefits and advise you on these topics. ​
Some of the benefits for employees at the headquarters in Weißenhorn are explained in more detail below.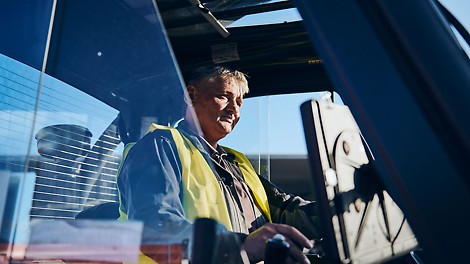 Retirement Provisions and Insurance Coverage
Providing for the future has become an important topic nowadays. In order to assist our staff members with their retirement provisions, we offer them different possibilities of company pension schemes. Permanent staff receives from us a contribution for future security and provisions for the future. We insure all members of the company against the consequences of an occupational or private accident with a group accident insurance. Every staff member is automatically and worldwide insured through this without any additional costs. Furthermore there is the possibility to take out occupational invalidity insurance at favorable terms.
Catering
For our staff members, there are many different types of coffee, cakes, snacks, sandwiches and salads available at low prices at our bistro. Our modern canteen at the Weißenhorn site is one of the best in Germany. It offers a wide selection of changing local and international dishes with vegetarian options, which are of course offered at reduced employee prices. The seats around the pond offer a relaxed atmosphere in summertime.​
Health Management
Healthy employees – Healthy business
"Healthy employees – healthy business". PERI has adopted this motto, creating the firm's own health management system.
We want to promote our employees' long-term health. To achieve this we focus on the three pillars of exercise, nutrition and relaxation.
The PERIfit Room
We have our own PERIfit Room in Weissenhorn, where various sports and preventative courses are held, such as fitness boxing, back fitness or spinning. The varied course program is constantly adapted to the wishes of our staff members or up-to-date trends.
Finally, we hold other events that complete our offer, such as talks and seminars on nutrition, relaxation, non-smoking or physical well-being.
Company fitness programme​
You can also benefit from the EGYM company fitness programme with more than 7,500 network partners. Our staff members can make use of what is offered there at a reduced price.​
Bike Leasing​
Furthermore, PERI offers the advantage of leasing a bicycle and also supports this financially. The bicycle can be used both professionally and privately.​
Sport with PERI colleagues
In addition to our prevention and sports program, our employees have set up and organize a great number of company sports groups. These sports groups include e.g. football (soccer) and dragon boat teams as well as badminton, tennis and volleyball groups, which meet regularly. Our skiing and motorcycle trips are also really popular. People looking for a special challenge and with a lot of stamina can have a go at Ulm's Einstein Marathon with their colleagues.
Layout of the work place
Often people do not talk about the layout of a work place. But it is an important component of daily work. Therefore we equip our work places with ergonomic chairs and desks that can be moved in height. On request we also have further ergonomic equipment, such as special keyboards or mouses.
Work and family
Create a good work-life balance for you
As a family-managed corporation, the balance between work and family is of particular importance for us. The traditional family model is changing. Staff members want to be able to balance their work and their family. This is why we support our employees with flexible working hours and many other offers so that they can adjust their professional careers to their private circumstances.
Parental leave
Due to our different offers, mothers and fathers find it easier to create a balance between still progressing on the career path and realizing private life plans. There is, for example, the possibility to return to the workplace with reduced working hours after parental leave so that the working situation can be adjusted to the family planning.
Family caregiving
In case family members need care, we as a family-owned company help to accommodate to this situation in the short and in the long run. During this time, we support you with adequate consulting and offer you time off to be able to fully concentrate on your family.
Child care
We offer our employees childcare facilities at the Weißenhorn site. This includes individual emergency childcare or short-term childcare, as well as childcare during the school holidays.​
The "Innovative Region of Ulm"
In and around Ulm
The headquarters of PERI are located in Weissenhorn near Ulm, a very attractive region for businesses and residents.
The region
Weissenhorn with its more than 13,000 inhabitants belongs to the district of Neu-Ulm in Bavaria and thus forms a part of the Danube-Iller region. Here you can find a good combination of economic power, excellent infrastructure and high quality of life.
This has been underlined by the survey "Deutschland zum Wohlfühlen" [Feeling good in Germany] of the renowned Deutsche Bank Research as well as the research of the German TV channel ARD "GlücksTrends" [Trends for happiness] in 2013– in those surveys, the Danube-Iller region ranked among the top six regions in Germany.

Weissenhorn
The city of Weissenhorn with its historical old town is situated in the middle between Stuttgart and Munich at the border to the federal state of Baden-Württemberg. Weissenhorn is only about 20 kilometers away from the attractive towns of Ulm and Neu-Ulm and has a very good transport infrastructure with highways and trains.
Ulm and Neu-Ulm
Ulm and Neu-Ulm invite you to visit their museums, theaters and cinemas, or for a shopping tour. There is a large selection of bars, cafes and restaurants. Furthermore, the Ulm International School, the University of Ulm and the Universities of Applied Sciences in Ulm and Neu-Ulm offer attractive school and study options in a national and international environment. Particular highlights of the year are the so-called "Schwör" weekend in Ulm with the "Nabada", a parade on the river Danube, and many concerts as well as the lovely Christmas market in front of the impressive Ulm Minster.
Leisure time in the region
The region offers leisure time activities for every taste: The Alps are only about one hour away by car. And Lake Constance with all its recreational possibilities and attractions is just as close by. Austria and Switzerland invite you for a short trip. The lakes and forests in the vicinity offer many possibilities for outdoor and indoor activities. The surroundings of Weissenhorn feature numerous destinations, also for family outings: The zoos in Ulm and Augsburg, or theme parks like the Legoland near Günzburg, the "Ravensburger Spieleland", or the Skyline Park in Bad Wörishofen offer a lot of fun and entertainment (not only) for children.
Tourism "Alb-Donau-Kreis"
Tourism "Landkreis Neu-Ulm"
Tourism "Region Ulm"
Tourism "Schwäbische Alb"
Are you curious?
Take a look at our current vacancies!