Research at the limit
To understand what holds the world together at its core calls for the utmost technological achievements: particles are accelerated to almost the speed of light and brought to collision. The heart of the facility is the three-cell, 1,100-metre-long ring tunnel with walls and ceilings up to 6.3 metres thick. The technical installations – 520 ventilation systems, enormous electromagnets, highly sensitive detector chambers, thousands and thousands of kilometres of power and data cables, underground crane systems, dozens of heavy-duty and fire brigade lifts – all this cannot be transported 20 metres underground and then assembled, but is created in a complex interlocking sequence with the shell construction.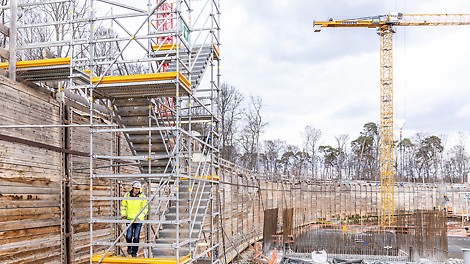 Extremes in construction
2-metre-thick and 11-metre-tall walls with 6-metre thick slabs are not common. There is so much steel built in that you cannot even pass a finger through the reinforcement, and normal concrete does not flow through it. To ensure that construction progressed in an economical way, one half of each slab formwork was moved through the stationary part to the next section after striking. When the construction site was divided in an unscheduled way, the complete formwork set had to be doubled in a very short space of time. These represented extreme challenges that were solved together with the contractor.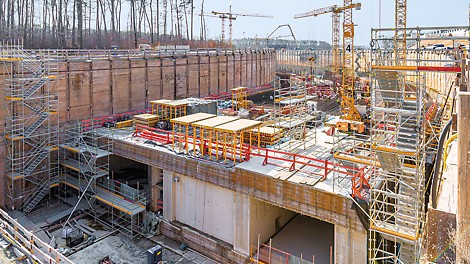 Working as a team to achieve success
In the more than four years since the start of construction, the PERI team has been able to build up a relationship of trust with the responsible contractor which really paid off in critical phases.
Individual willingness to take responsibility and continuity of all the personnel involved, from the project management and technical office to assembly and logistics, proved to be profitable and contributed to keeping the quality and efficiency of the processes at a high level at all times.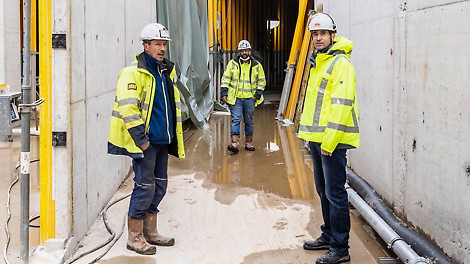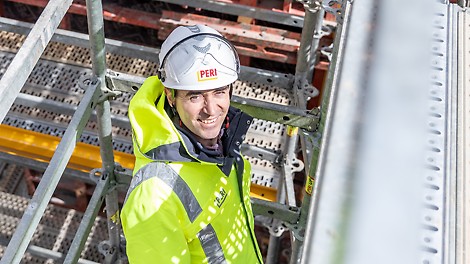 Extras included
Our highly competent experts provide passionate support in all project phases.
Achim Krämer, Senior Project Manager

With FAIR, it was clear from the beginning that we wouldn't just score points as a supplier through our broad portfolio. What counted here was what is becoming increasingly important on large construction sites around the world: on the one hand, we've got to become more and more efficient as an organisation and find more economical standards for construction. On the other hand, what is needed are people with a high level of competence and a high degree of freedom who can react flexibly to the challenges of complex construction sites and find optimum solutions where advance planning is not effective. We were able to put down decisive markers here right from the start. And literally so: the building surveyor did not rely on the structural engineer's blanket statements, but rather on the detailed drawings that we generated especially for him from our CAD plans.
We are on site for you worldwide
We support our customers from A-Z - no matter where they are in the world. You will find detailed information about our products and projects on the individual country websites. We would be happy to help you too.