Whether Brazil, Singapore, Canada or England, our project engineers work across the globe, and their tasks are as diverse as the locations in which they operate. Their shared objective? To identify the best technical and economical solutions for our customers and to provide comprehensive project support! So it goes without saying that they work together closely in global partnership and routinely swap their own desk for a construction site abroad.
Unbeatable together
One exciting example of this collaboration is the Mersey Gateway Bridge in England. In 2015, a 2,130-metre-long bridge was built over the River Mersey near Liverpool – quite the challenge given its length! But that was no problem for Thomas Mönch, Head of Site Supervision at PERI SE, and his colleagues from the network of engineers: "Our task was to plan and dimension the suitable formwork and climbing systems while also considering the technical and unique requirements," he explains.
The key factor for ensuring that the project proceeded without issue was the seamless collaboration and close communication within our international team. Our engineers know one another, and this enables them to see the bigger picture and call on the expertise of their international colleagues when specific questions arise.
Much like intermeshing gears, everyone had their own tasks. "The English colleagues had the best knowledge of the conditions at the construction site and how the work there was progressing, and the supervisors from Germany and England then took care of assembling the formwork for the pier tables and pylons," reports Thomas.
In addition to this, planning was not conducted behind closed doors. Instead, all experts were on board right from the get-go, and so were there when the first ideas were fleshed out.
The saying really is true: teamwork makes the dream work!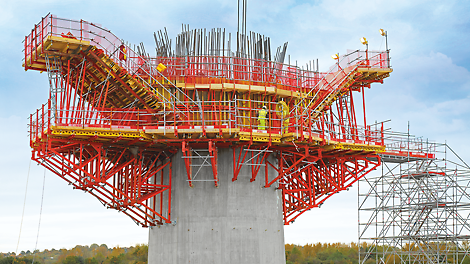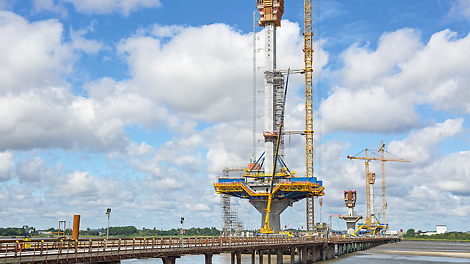 More than just a job
When Thomas talks about his work, his enthusiasm cannot help but shine through: "There are so many exciting aspects that make our job something that we love doing. Being at the construction site and supporting the customer is always stimulating, and that's just one example of many. Every project is unique. And that's why, alongside our technical expertise and organisational skills, we also need a lot of creativity to be able to develop the right solutions."
Whenever an innovative bespoke solution is needed, Thomas knows exactly who to go to: "This is where our in-house development department comes into play. If we see a bespoke solution being used repeatedly or in a similar form, we work together in close partnership to try to develop an appropriate serial part. As well as making the work easier, this is also very sustainable."
Thomas Mönch
Head of Site Supervision at PERI SE
"When our customers want optimum formwork and scaffolding solutions including project support, our task is to ensure that they get exactly that and feel that they are in good hands with us."
A diverse mix of experts
When asked whether all engineers must have the same skills and capabilities, Thomas has a clear answer: "The PERI universe contains experts that bring different qualifications and specialisms to the table. Our customers benefit from a broad range of expertise stretching from formwork experts in standard application areas to specialists in bridge construction or high-rise buildings," he reports. The idea that engineers just sit in their offices and work in isolation is a myth!
And what about the language skills required of engineers? Thomas answers as follows: "Of course, English is a must for international collaboration – both within the team and with the customers. Other languages are an advantage, but are not essential in order to become a civil engineer."
"Ultimately, everyone involved is pursuing the same goal. If we don't all pull in the same direction, we cannot succeed," stresses Thomas. Without engineers and their concentrated competence, the necessary know-how would be missing. "No construction would be possible at all," he comments. "We are the specialists in this – we have the expertise that is required for civil and structural engineering. And a project can succeed only when we work together!"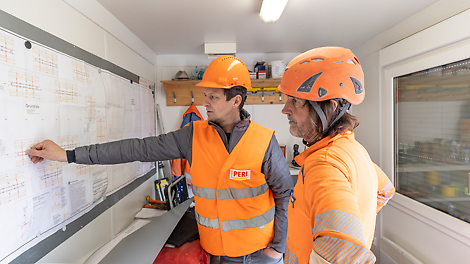 To achieve this success, supporting tools and programs are required in addition to the engineers. "Here in Weißenhorn, Germany, we work with the very latest 2D and 3D planning software, such as AutoCAD. We also use the BIM system," explains Thomas.
In BIM (building information modelling) systems, all formwork and scaffolding solutions and all project data are recorded digitally – worldwide. This encourages information sharing and increases efficiency. However, not every tool can be used universally: direct and transparent communication remains absolutely essential in every project.
A modicum of truth behind the cliché
But among all the cutting-edge technology and digital progress, there is a tool that Thomas would never go without: a simple pen and a piece of paper on which his first ideas take shape. In this case at least, you could say that the cliché contains a grain of truth. The old-fashioned methods are sometimes still the best!