Tie pattern and joint pattern
The tie and joint pattern is often used for the design of exposed concrete projects. The formwork used plays an important role in this. For framed formwork, tie patterns and the frame imprint in the concrete are predefined. With the centrally arranged tie points, the result is a regular joint pattern – both horizontally and vertically. With the possibility of combining different element sizes, PERI also offers the option of flexibly designing the concrete surfaces. As a rule, framed formwork achieves exposed concrete results from SB 1 to SB 2. With PERI MAXIMO, the production of exposed concrete class SB 3 is also possible following consultation with the client.
Girder formwork offers universal design options without a frame imprint in the concrete appearance. While prefabricated standard sections have fixed element sizes according to the specifications, object-related formwork sections are more flexible. The formlining (type, size, fastening), girder and ledger position (spacing) as well as the tie pattern can be freely selected in compliance with the system principles. Depending on the system, exposed concrete results from SB 3 to SB 4 are achieved.
With the PERI Library+, architects have the possibility to integrate the suitable formwork solution into a Revit model already during the planning phase in order to visualise the final concrete appearance in advance.
Below you will find a selection of projects in which tie patterns and joint patterns were used as architectural design elements.
Pulitzer Art Museum
Architect: Tadao Ando

The Pulitzer Art Museum presents contemporary and historical art on two levels. The almost windowless art centre designed by Japanese star architect Tadao Ando consists of two cubic structures with impressive exposed concrete surfaces and razor-sharp edges. The even, structureless concrete appearance with precisely arranged tie points was realised with PERI VARIO girder wall formwork. It could be adapted to a wide variety of wall shapes.

Office building Kopp
Architect: Architekturbüro Veser

The modern, two-storey office building of the family-owned company Kopp from the Upper Swabian town of Emerkingen near Ulm impresses with its exposed concrete facade with a clearly structured joint and tie pattern. It was also important for the project that the exterior walls and window openings harmonise with the pattern. The combination of MAXIMO panel formwork with PERI UP scaffolding allowed the 7.20 m high external walls to be constructed in one pour. Due to the use of magnetic cones during forming, the tie holes could be closed with concrete cones.
Further project examples
Discover more interesting projects

Tie formations
A very effective design element of exposed concrete walls are the tie holes. These can either remain open or be closed. Fibre concrete or poured concrete cones or plugs are suitable for closure. Depending on whether the closure is flush with the wall element or offset to the rear, the result is a flush closure or a shadow joint.
The pattern of the formwork ties depends on the system used and can only be influenced to a limited extent, for example by so-called blind ties. They supplement the tie points required for the formwork. This creates an even and orderly tie pattern.
St. Canisius Church
Architect: Büttner – Neumann - Braun BDA Berlin


The architectural office Büttner – Neumann – Braun BDA Berlin has designed a new meeting place for the St. Canisius parish in Berlin. The reinforced concrete construction is characterised by regularly arranged formwork joints with tie points and construction joints. PERI VARIO GT 24 girder formwork elements with filmed plywood as formlining and nailed-in matrix parts achieved the best exposed concrete results. Tolerances in the formwork joint area were minimised with an exposed architectural concrete coupling.

Langen Foundation
Architect: Tadao Ando

For the art collection of the Langen Foundation, the Japanese star architect Tadao Ando designed an exhibition building made of concrete, glass and steel. Characteristic of his buildings is the visible structure of the formwork panels used, which together with the accurate tie points create a striking image. The installation of the six striking tie points per slab was carried out with the help of VARIO GT 24 formwork elements, which were covered with blind plugs.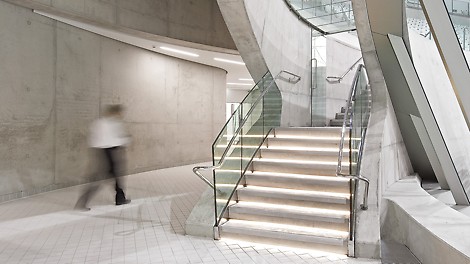 Formwork Technology for Architectural Concrete
Find even more information in our practical handbook Formwork Technology Architectoral Concrete
Creative building forms
Unusual geometries, sharp edges or curved surfaces are the distinguishing features of many buildings. For their realisation, specially made free-form formwork is usually required.
PERI engineers plan these architecture-specific formwork bodies based on a 3D model. For a precise arrangement of the later visible joint and tie grid they always also consider the formwork assembly on the construction site. In the factory, the 3D solids are pre-assembled with millimetre precision, so that they can be assembled easily on the construction site. The wide range of international project experiences of PERI have led to a high degree of detailing and standardisation in the sequence of such formwork projects. As a result, for example, larger elements, improved element connections as well as higher concrete pressures and concreting heights than normally are possible. At the same time, concrete surfaces of the highest visible quality are achieved without visible imprints in the concrete.
Curved walls can also be constructed with PERI systems: Through polygonal approximations to the desired geometry with the help of panel formwork or with custom-made girder formwork. Circular wall areas with bending radii from 1.00 m to about 20.00 m can be realised steplessly.
Museum of Tomorrow
Architect: Santiago Calatrava

When designing the Museum of Tomorrow with a movable facade and roof, architect and engineer Santiago Calatrava was inspired by pineapple plants. Two floors connected by sloping ramps offer 5,000 m² of exhibition space. PERI planned and manufactured over 3,500 project formwork units for the extraordinary museum in cast-in-place concrete construction. The assembled 3D overall formwork was supported by PERI UP shoring and working scaffold as well as a VARIOKIT frame reconstruction.

Aquatics Centre
Architect: Zaha Hadid

The interior of the water sports arena, which was designed by Zaha Hadid on the occasion of the 2012 Olympic Games, impresses with complex geometries and the curved shape of the roof construction, which is visible from afar. During construction, not only did maximum exposed concrete requirements have to be met, but due to the subsequent glazing, work also had to be carried out with the utmost precision. In order to realise the flowing geometries, PERI developed a customised 3D project solution in close cooperation with the architectural office. PERI delivered over 200 individual and completely assembled formwork units to London just in time. Photo: Hufton + Crow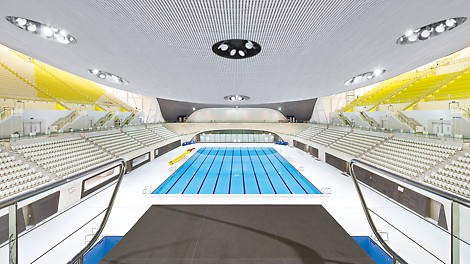 Report - Aquatics Centre, London
Find even more information in our PERI report Aquatics Centre, London.

3D construction printing
3D printers offer numerous new architectural design possibilities that can be implemented quickly and inexpensively.and inexpensively. From individual shapes to special surfaces and colours, almost anything can be realised. PERI developed the technology into a full-scale construction process in 2020, ensuring the first 3D-printed houses that are regularly rented and occupied.
Design possibilities with the 3D printer

Characteristic of the COBOD BOD2 buildings are surfaces in 3D print optics. In addition to pulsating structures, surfaces with a smooth look are also possible without any problems. A terrace structure is a good choice for easier plastering. There are hardly any other limits for the printer – showers, fireplaces, kitchen substructures can be printed without any problems. Further design possibilities are offered by the play with overhangs as well as different heights and widths of the print layers.

Residential building Beckum
Architect: MENSE-KORTE ingenieure+architekten

The two-storey single-family house in Beckum, North Rhine-Westphalia, with around 80 m² of living space is the first printed residential house in Germany. It was planned by the architectural office MENSE-KORTE ingenieure+architekten from Beckum. The round walls of the house could be realised much faster and cheaper with the COBOD BOD2 than with conventional construction methods. In addition, other elements come from the printer, such as the fireplace or parts of the bathroom fittings.
More about 3D construction printing
Learn more about 3D construction printing
MESH technology
3D reinforcement elements for complex reinforced concrete components
MESH technology is a form of robot-assisted technology for efficient and cost-effective production of complex reinforced concrete components, which does not require any formwork.
The main idea is to use an automated prefabrication process to produce complex or curved reinforcement cages, which would normally have been produced by hand using elaborate conventional formwork methods. The 3D reinforcement elements created in this way serve as formwork and reinforcement in equal measure and are filled with a specific concrete mixture.
An automated, robot-assisted prefabrication process

MESH technology combines digital planning with robot-assisted fabrication to enable quick and easy production of the 3D reinforcement elements. These can be used both for formwork and reinforcement purposes. (Photo: MESH AG)

High degree of design freedom

MESH technology enables cost-efficient production of complex geometries in addition to offering a completely new level of design freedom in terms of shape and surface structure. (Photo: MESH AG)
Further information
You can find even more information about the innovative technology on the MESH website.
Your contacts worldwide
CONTACT OUR PERI EXPERTS FOR YOUR PROJECT
Do you need support in planning special formwork solutions or advice from our specialist engineers? Then contact our PERI experts in your country.
Further project examples
Discover more interesting projects