As the "DS Stadt Zürich"", I am not merely a vessel; I am a witness to the unfolding history of Zurich and Lake Zurich. My story began in the early 20th century when construction took place at the Escher Wyss shipyard in Zurich. Designed by the talented naval architect Hans Robert Schiess, I was built with meticulous care and attention to detail.
In May 1909, I was launched into the shimmering waters of Lake Zurich, immediately capturing the attention of the people. With my dignified presence and luxurious interiors, I became an instant symbol of elegance and grace. As time passed, I became an integral part of daily life in Zurich.
Meanwhile, the world around me evolved. In 1937, I bid farewell to my steam engine, making way for a modern diesel-electric engine. During the times of the Second World War, I became a vessel of hope, ferrying refugees and supporting the Swiss Red Cross. In the post-war years, the rise of modern transportation led some to believe that my time had passed. Yet my timeless charm and historical significance won the hearts of many who understood the importance of preserving heritage and traditions. In 1991, I was officially recognized as a historical monument. The city of Zurich and passionate individuals rallied to restore me to my former glory. Over the years, the restoration project aimed to recreate my original design and ambience while incorporating modern safety standards.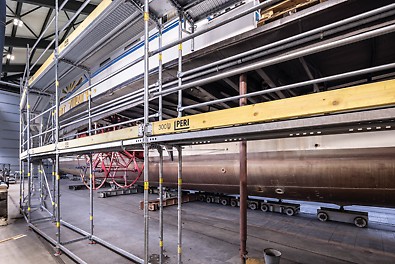 Nowadays, I find myself in the shipyard hall of the Zürichsee-Schiffahrtsgesellschaft (ZSG), undergoing major maintenance work. Sandblasting, locksmith work, and painting are being carried out across my entire keel, covering an area of 700 m² up to my rubbing strake. But I am not the only one - my nine fellow ships will also be undergoing maintenance: MS Stadt Rapperswil, MS Forch, MS Panta Rhei, MS Wädenswil, MS Stadt Zürich, MS Limmat, MS Bachtel, MS Säntis, and MS Helvetia.
Due to our substantial dimensions, only a very small amount of storage space is available. Luckily, we only needed 84 m2 of yard area to deploy the 24 tons of PERI UP Facade Scaffolding materials. I am happy to know that the people who are taking care of me are working in a safe environment, thanks to the scaffolding assembly with a guardrail in advance. What's more, I was excited about having a digital twin as PERI provided 3D plans for the scaffolding solutions of each vessel. These comprehensive plans facilitated visualisation and provided clear guidance for the scaffolders. In addition, PERI offered training for the staff on working in improved safety conditions, which proved highly beneficial for the entire maintenance team.
I am delighted that the restoration work has returned me to my former glory, as I am more than just a steamboat; I am a living memory, a reminder of times gone by, and proof of the strength and resilience of humanity. As long as there are people who appreciate history, beauty, and the spirit of adventure, I will continue to sail, proudly carrying the name of Zurich, as the "DS Stadt Zürich".