After getting into the car in Bobstadt and driving 65 kilometres to the construction site, the Frankfurt skyline gradually unfolds in front of her. The city is one of the most important financial centres in Europe and is characterised by its modern high-rise buildings. What has not existed until now: a high-rise ensemble that combines working and living. A place that includes people in their everyday lives.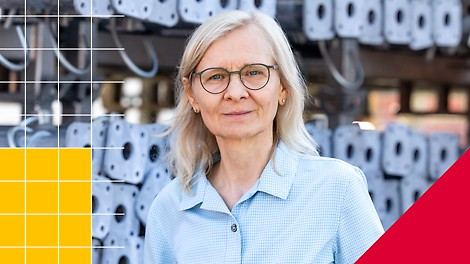 "FOUR Frankfurt closes this gap. The city has changed enormously in recent years. In the past, buildings were completely closed off to their surroundings. Today, you want to create places where people can feel good. And it is nice that we can now be a part of this," Elisabeth says with considerable pride. Since 2018, PERI has been supporting the GP Con construction company in expanding the city with an ensemble of four futuristic high-rise buildings and creating a liveable place for young and old.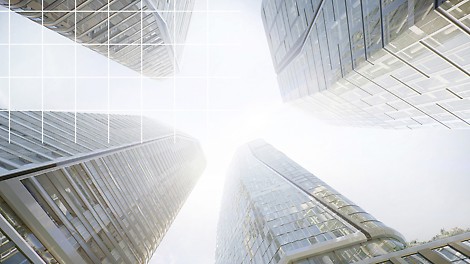 When the Flensburg native arrives at the construction site, she can immediately see the high-rise quartet, designed by the Dutch architectural firm UN Studio. Quartet, however, does not mean that all the towers are the same. Quite the opposite: they differ in height and possible uses, which in turn has a tremendous impact on the construction process.
"In total, more than 600 apartments, a lifestyle hotel, serviced apartments as well as offices, gastronomy and experience areas with a direct connection to Frankfurt city centre are being built here," says Elisabeth, taking us first to the centre of the construction site. "This will later be the public square – a place where people can meet or eat their lunch." She then points upwards to one of the towers. "There, at a height of 25 metres, a green plateau and garden landscape will provide even more quality of life: pure relaxation in the heart of the skyline." True to the project motto "Live the city".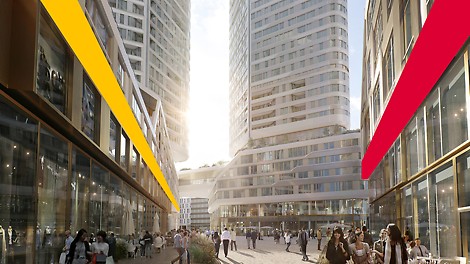 FOUR Frankfurt
Four towers, four different concepts
Construction period: 2018-2025
1. Tower
233 metres
56 floors
Offices
2. Tower
178 metres
48 floors
(Serviced) Apartments
3. Tower
128 metres
31 floors
Condominiums & Lifestyle Hotel
4. Tower
104 metres
25 floors
Offices
FOUR Frankfurt and the tasks as a PERI project manager
Elisabeth is responsible for the tallest tower, which we accompany her to next. Her colleague, Thomas Mehl, is in charge of the project management of the other three smaller buildings. Once at the top, there is an impressive view of the city. But as impressive as the view and the FOUR Frankfurt towers are, the project also poses an enormous challenge: "All four towers have a completely different design. This is exactly where we come in, as we offer a complete package of scaffolding, formwork and service solutions, topped off by our project support," says Elisabeth.
Innovative, safe and coordinated PERI system solutions are used, which consist of hydraulic climbing systems, wall and slab formwork, solutions from the PERI UP scaffolding construction kit and the VARIOKIT Engineering Construction Kit, as well as various other components. "Thus, we can see almost every PERI system at the construction site", Elisabeth tells us enthusiastically. The big challenge here: the demanding logistics concept. "The construction site provides little space for the PERI products. I therefore have to make sure that only those items we need at that moment are delivered to the site."
This is only one of the many tasks that Elisabeth has to take care of. She also keeps track of when the statistical calculations need to be reviewed by an inspector and she also handles all the ordering – from formwork material to scaffolding parts to custom-made products. "This always takes place in close coordination with our engineers and the site management," says Elisabeth and adds: "And the nice thing is that when I've made a plan that works, then I know that I was definitely needed."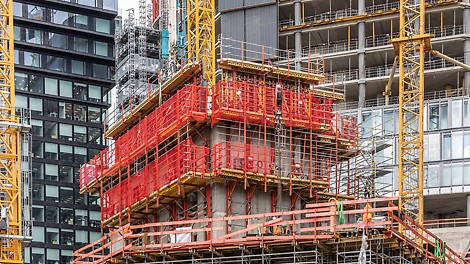 Cooperation on an equal footing
As high-rise buildings grow ever taller and the demands on logistics and safety increase, close cooperation and trust at the construction site are extremely important. During the tour, Elisabeth meets her colleagues from the construction company, including Mohamed Badran, site manager at GP Con. He tells Elisabeth how the cooperation with PERI works: "We have a long-standing, good cooperation built on the basis of mutual trust and respect that has worked without any problems so far." Senior site manager, Roger Schmitt, adds succinctly: "The cooperation is partnership-based, innovative, great."
Elisabeth can only return this compliment. "It's a relationship on an equal footing. If something doesn't work out, we communicate openly and always find a solution." And that's exactly what makes a gigantic project such as FOUR Frankfurt work: Finding solutions together and pooling expertise to redefine cities such as Frankfurt over the long term.