The construction site of yesterday, today and tomorrow
When television pictures appears in colour for the first time at the push of a button, thousands of viewers sat spellbound in front of their television sets – among them Karl Heinz Soukup.
"Suddenly seeing children's TV characters in colour was a very powerful experience for me as a child. Television itself was a special thing for me back then, even though I only had three channels to choose from and the picture quality of the CRT TV was nothing like the high-resolution screens of today," Karl Heinz Soukup recalls.
Only two years later, in 1969, Artur Schwörer founded the company PERI together with his wife Christl. Their goal was to make construction work more economical, faster and safer; something that the technological developments of the time played a decisive role in. For example, the Internet, which is released free of charge to the whole world in 1993 and also makes it much easier to obtain information and communicate in the construction industry.
While this development was unfolding, Karl Heinz Soukup started working for PERI after completing his studies in mechanical engineering, and produced the very first computer-generates formwork designs. At that time, the drawing board is far more popular with many Application engineers and the final drawings were mainly sent by fax. But Karl Heinz Soukup and his colleagues already recognised the added value of digitalisation at that time, even though the loading time on the computer then was still up to half an hour. For example, customers' change requests could be implemented more efficiently or offers can be created automatically. In addition, the department develops software, enabling customers to draw walls and slabs in 3D in order to define the amount of material required. This simplifies the work on the construction site enormously. In Karl Heinz Soukup's view, this was a major step forward for the construction industry.
"In the 2000s, my team and I were involved in the further development of PERI CAD and other tools. We focused on pressing ahead with digitalisation in construction in order to meet the requirements of our customers and their construction projects. For us, it has never been about producing digital gimmicks, but about offering a real digital convenience and providing advice and support," says Karl Heinz Soukup.
At the same time, the smartphone establishes itself as a popular means of communication. It is possible to have permanent access to the internet on your mobile phone, and to access digital content from anywhere at any time. Nowadays, it is impossible to imagine our lives without smartphones. They are also in constant use on the construction site. Specific apps can be used to create formwork and scaffolding plans intuitively, locate materials on the construction site, visualise project-specific 3D models and access relevant project data at any time and from any location.
To keep pace with the times, PERI is constantly evolving in the digital sector. And now the next generation of the Soukup family is getting involved, too. Karl Heinz Soukup's son, Thomas, completed his dual studies at PERI and now works as an IT specialist at the company.
"I would like PERI to remain open-minded when it comes to new technologies and to help shape digital development. Of course, it is also a matter of aligning oneself with the market and focusing on the wishes of the customers. Thanks to digitalisation and possibly also with the use of artificial intelligence, I foresee new opportunities for innovative, creative, and sustainable work processes in the construction sector," says Thomas Soukup.
PERI is already addressing the question of how the use of AI-based helpers can make everyday construction site work easier. The knowledge that experienced foremen have of construction work and their ability to record this digitally could further improve the digital planning process and associated workflows in the future – an aspect that is becoming increasingly important given the shortage of skilled workers.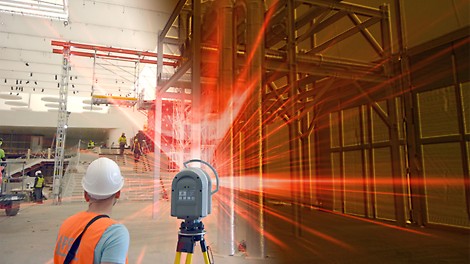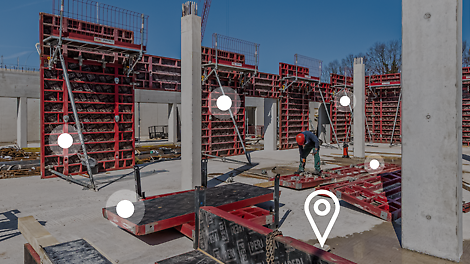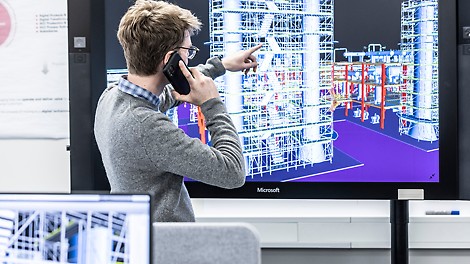 Then and now
From the drawing board to computer planning
Drawing board

Planning on the Drawing board

PERI CAD

Planning on the computer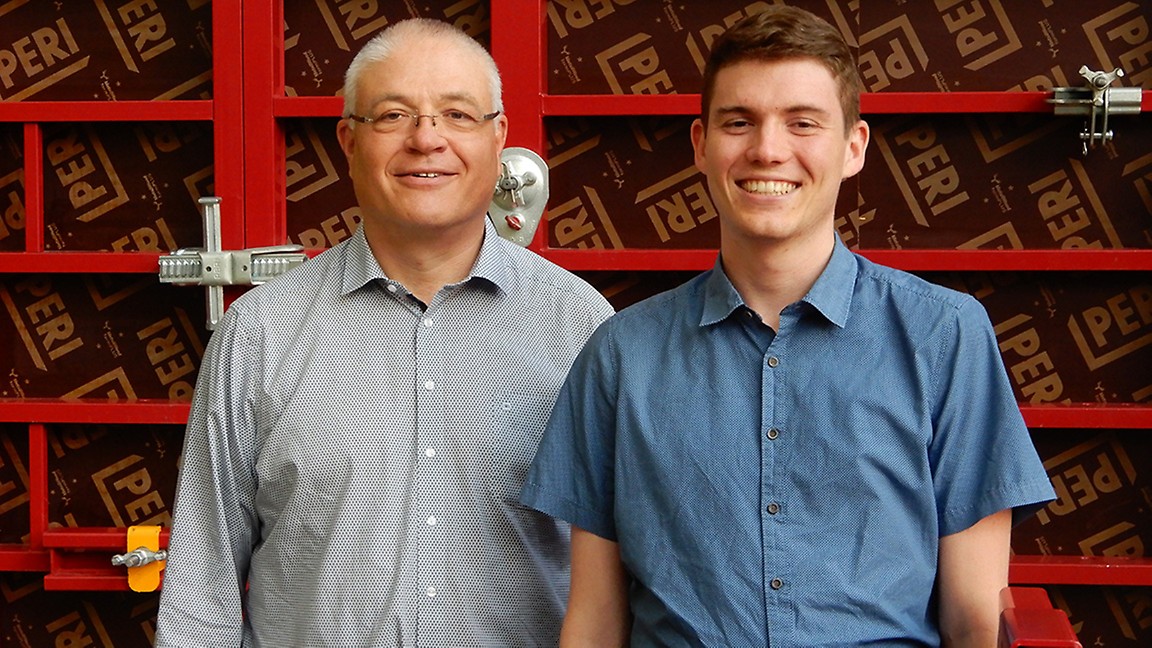 Karl Heinz Soukup and Thomas Soukup
And even though PERI already offers a wide range of digital solutions, we are always looking ahead to the next stage of development. Digitalisation can only work if you cooperate closely with the people who will be using these tools in the future. We can only make a lasting difference to the future of construction if we work together.
We are on site for you worldwide
We support our customers from A-Z - no matter where they are in the world. You will find detailed information about our products and projects on the individual country websites. We would be happy to help you too.