The images in more detail
The following is an overview of the images contained in the press set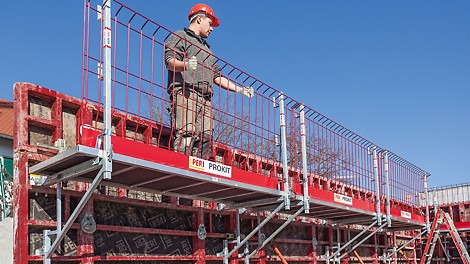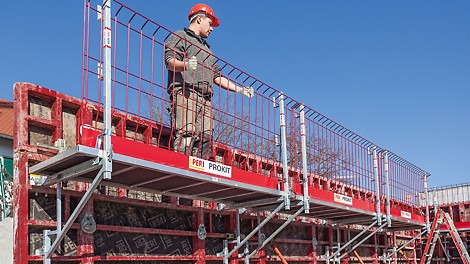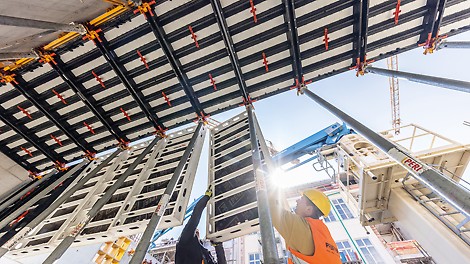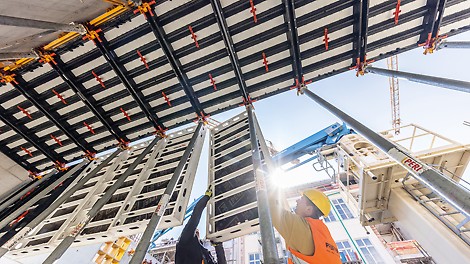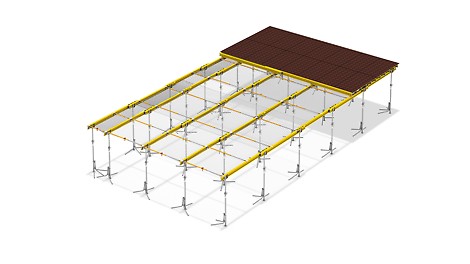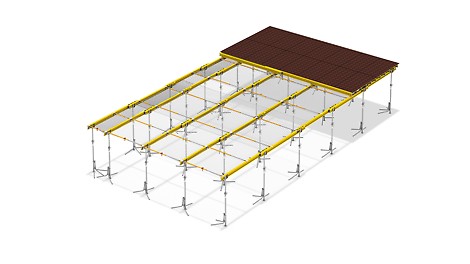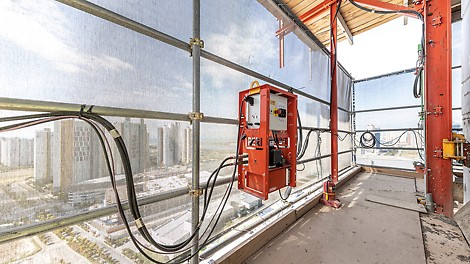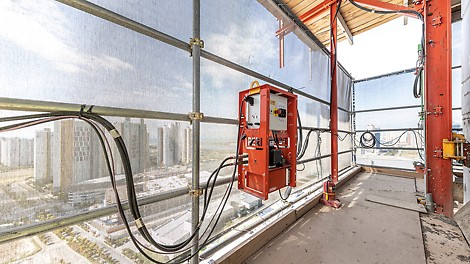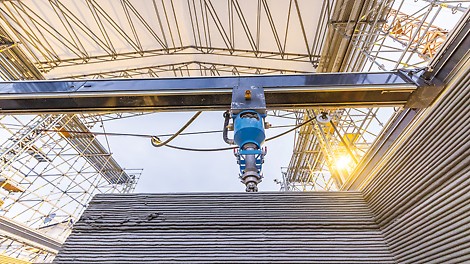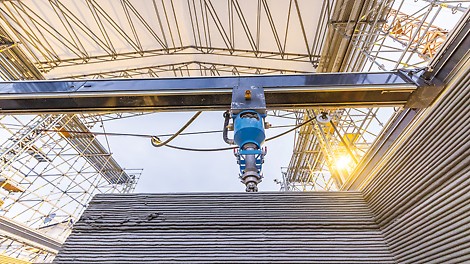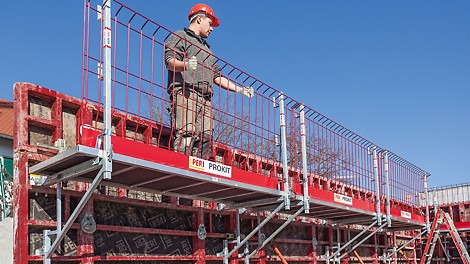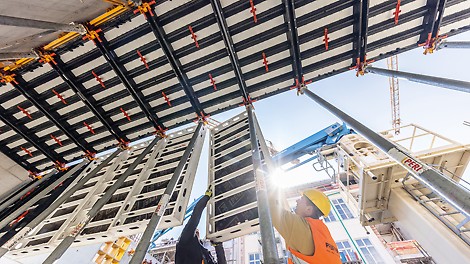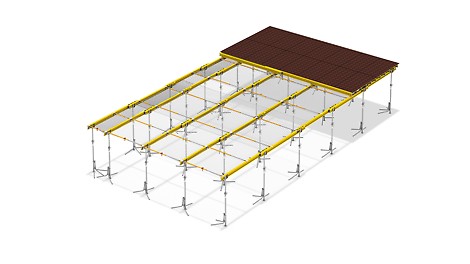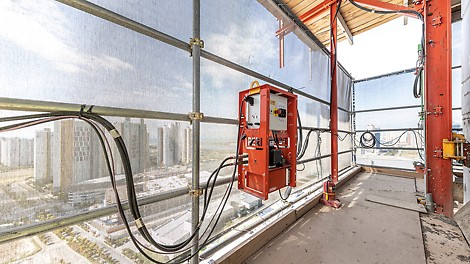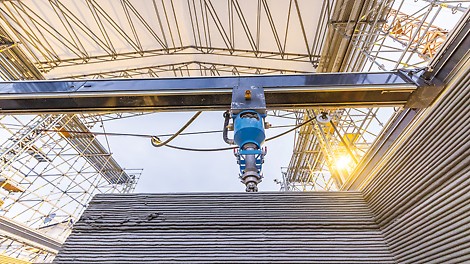 Visitors to the PERI exhibition hall can look forward to an innovative further development project from the wall formwork sector which relies on the principle of the tie technology, which can be operated from one side, and optimises the existing system in terms of cost-effectiveness and flexibility.
For the proven MAXIMO Panel Formwork, PERI is also presenting new additions that ensure even greater safety and efficiency. Special attention will be paid to the modular MXK Bracket System, which is characterised by the safe pre-assembly of the bracket, scaffolding deck and side guardrail on the horizontal element.
MAXIMO can now be used even more flexibly with a further solution for designing a wide variety of corner situations. In addition, a retrofittable hydraulic module is available for striking of the shaft corners in a way which saves a lot of effort. PERI is also presenting a further innovation in wall formwork systems with the new, recyclable ROBU B formwork panel with an easy-to-repair surface and consequently a particularly long service life.
More sustainability and safety on the construction site thanks to new technologies
SKYMAX Panel Slab Formwork is the focus of the slab formwork area in the PERI exhibition hall. The SKYMAX construction kit principle with panels made of aluminium and polymer achieves a very high level of technical and economic flexibility. The panels can be efficiently combined and assembled into slab tables for optimum slab formwork performance. The lightweight polymer panels with a particularly durable formlining moreover represent a sustainable alternative to conventional timber solutions; their use can counteract the extreme global timber market developments with long delivery times.
Also for the proven SKYDECK Slab Formwork, PERI is now presenting a more sustainable alternative with the new ROBU B formwork panel for aluminium panels, which will appeal to customers with its particularly high durability and long service life.
Digital product identification with RFID
PERI is taking another step into the digital future with RFID technology, which is installed as standard on the aluminium panels of the SKYMAX Large Panel Slab Formwork. RFID technology helps to make the flow of materials on the construction site more transparent while also optimising logistical processes. The SKYMAX panels are equipped with an RFID tag for this purpose. With a smartphone or UHF reader, users can clearly identify and assign the panels by scanning this RFID tag. Thanks to the RFID tags, it is also possible to call up specific component information, assembly and usage instructions as well as product videos digitally in the PERI MATERIAL SCAN App by scanning the panels.
Increased safety through new protection systems
With an extended portfolio of safety systems for slab formwork, PERI is also setting new standards in product and workplace safety. At bauma, the formwork manufacturer will show live how the new HAMMOCK Safety System works. The safety net serves as collective fall protection when shuttering from above and catches larger falling parts – both when working with MULTIFLEX Girder Slab Formwork and when using precast slabs. As a supplement to the already known SKY-Anchor for SKYDECK slab formwork, PERI will also be showing the new, universally applicable SKY-Anchor Universal. This also provides an attachment point for a person with personal protective equipment and allows the panels to be inserted safely from above. What's more, it can be used flexibly with other slab formwork, e.g. with MULTIFLEX Girder Slab Formwork and on the already concreted slab.
Synchronous and safe climbing with RCS MAX
Thanks to innovations in the field of climbing technology, visitors to the PERI exhibition hall can reach the top safely and efficiently. PERI is presenting a special highlight with RCS MAX, the further development of the proven RCS Rail Climbing System. The new RCS MAX Hydraulic Unit and the new RCS MAX Drive Rails can be easily combined with existing material to optimise the performance of the system. The cylinder of the new drive rails is now firmly connected to the system and climbs with it, making cumbersome conversions a thing of the past. The vertical loads can be transferred via a climbing shoe into the already cured concreting section, thus achieving faster concreting cycles.
In addition, RCS MAX significantly increases safety on the construction site, as the decentralised hydraulics allow all platforms to climb synchronously. This eliminates fall edges and reduces potential sources of danger for site personnel. Clever features such as the dead man's switch, an automatic stop in case of overload and collision as well as an emergency stop switch on each platform round off the well thought-out safety concept. The RCS MAX exhibit on display also underlines the high compatibility of formwork and scaffolding from PERI from a single source, as the climbing system is completely compatible with the PERI UP Scaffolding Kit.
Optimised concreting processes with PERI sensor technology
As a provider of comprehensive solutions along the entire value-added chain, PERI maintains an overview of the complete concreting process and, with PERI InSite Construction (ISC), presents a sensor portfolio that optimally complements common formwork systems. Thanks to digital temperature monitoring, concrete maturity determination and concrete pressure monitoring, the sensor technology comes into play exactly where highly qualified workers and many years of concreting experience are in short supply. It supports site personnel in making informed decisions about the concreting process. For example, the optimal striking time can be determined on the basis of meaningful real-time data without having to rely on tables and empirical values. In addition, the digital concrete analysis is characterised by sustainability, as modified and adapted concrete formulations can also be analysed without any problems.
A look into the future of building
With 3D construction printing, PERI has already been demonstrating its competence for several years in breaking new ground and leading disruptive technologies to market maturity, even outside the traditional formwork business. In the printing technology, PERI relies on the COBOD BOD2 gantry printer from the Danish manufacturer and market leader COBOD, in which PERI has already held a stake since 2018. After several successfully completed 3D construction printing projects in Europe and the USA, the PERI 3D printing team will also be showing a live demonstration of the printing process and presenting its full service portfolio at this year's bauma.
In addition, in recent years PERI has continued to focus intensively on researching disruptive technologies that have the potential to replace formwork and scaffolding. Thus, visitors can learn about new possibilities for the automated erection of reinforced concrete structures during the stand tour.
Contact persons
If you have any further questions about text or image material, please contact our press department directly.
Markus Woehl

Business & Finance Media

Tanja Häuptle

Trade Media