Planning, implementation and finalisation
With our digital products and solutions, we will support you in every phase of your project in the fields of construction, industry and infrastructure. Find out more right now:
Comprehensive support
We develop and rely on robust collaboration
Digitalisation based on cutting-edge technology opens up completely new ways of planning, managing and building. We provide comprehensive support to facilitate smooth and efficient processes on the construction site. In doing so, we rely on a strong network to drive innovation.
We offer digital products and solutions that help to simplify and improve everyday work operations on the construction site. We use tools we have developed ourselves and rely on cooperation with external partners, as is the case with BIM applications (Building Information Modeling).
The range of BIM services offered by PERI includes consistent use of construction data throughout the entire building life cycle with the support of selected software partners. Using BIM in formwork and scaffolding planning optimises the use of resources, such as labour and material expenses, both before the project starts on the construction site and throughout the entire life cycle.
We listen carefully

What are the market requirements? How do I make my day-to-day construction site operations more efficient? We understand what you need and can provide you with the solution.

We take a customer-focused approach

Which project phase are you in? What prior knowledge do you have? We will support you with a digital solution tailored to your needs.

We look to the future

What will construction look like in the future? Will artificial intelligence dominate everyday life? We are addressing the issues of tomorrow today and shaping digitalisation together with the people who need it.
Taking a digital approach to the future
We are at your side
suitable products and solutions for your digital construction project

experts tasked with developing new digital products

locations for effective on-site support – worldwide
Florian Botzenhart
Head of Digital Innovation & Development
"Digital innovations will be indispensable in the future for optimising construction processes in a holistic manner. But which digital technologies contribute to everyday problem solving during the construction process? This is the question that motivates us on a daily basis. Together we are aiming to unlock the potential of technologies and trends such as artificial intelligence, the internet of things, automation and robotics, to take data-driven formwork and scaffolding operations to a new level."
A reliable partner for your digital needs
You can count on us
Competent engineers & accomplished digital experts
with over 50 years of experience
Support during the planning and execution phase
of your construction project
Increased efficiency
through solutions tailored to your individual projects
Using our collective know-how
in the formwork and scaffolding sector to your advantage
Digital solutions
for simplifying and automating processes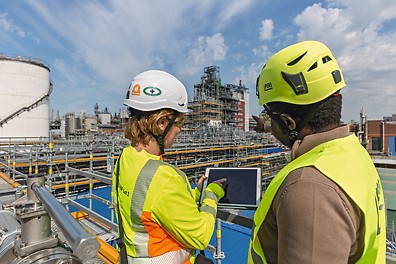 Using our digital solutions in your projects
With our portfolio, we can transform your challenges into solutions
Your contacts worldwide
Contact our PERI experts for your project
Do you need support in planning special formwork solutions or advice from our specialist engineers? Then contact our PERI experts in your country.