Where otherwise promenades and green spaces invite you to linger, today people hurry through the city with their heads down as quickly as possible. Not exactly the best day for Achim, our photographer, to document the construction of a new icon on the city skyline.
"The biggest problem in the cold is keeping the lens free of snow and the camera dry" he tells us as he gets his camera, various tripods and lenses out of the boot of his vehicle. "And then, of course, we don't have the best light to photograph in today". Whoever takes a look at the sky sees: White. Only white. And it's clear what Achim means by that.
But our photographer's schedule is tight; besides today's project in Toronto, there are other construction sites in Canada and the USA waiting to be documented. So it's curtain up and camera on.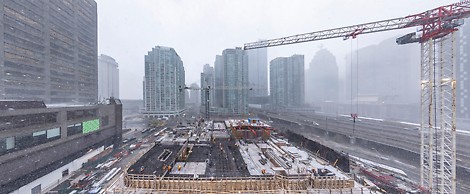 In the spotlight is Pinnacle One Yonge, a gigantic construction project designed by architects Hariri Pontarini and located directly opposite Toronto's harbour. In the first phase of the project, a combination of PERI's rail climbing system and slab formwork enabled particularly fast and safe construction to dizzying heights. But Achim is in Toronto to document the second phase of the project - the construction of the 345m high SkyTower, which will become the tallest residential building in Canada. In use: a self-climbing system from PERI which enables the simultaneous climbing of formwork and working platforms for the entire lift and stair core without the use of a crane.
Achim points his lens at one of the six hydraulic cylinders. "The cylinders minimise the number of anchors cast into the concrete core walls." says Oliver, who is responsible for climbing system at PERI Canada. Oliver explains to us that their engineering department developed an additional storage platform over the stair core that could also open with integrated hydraulics. Pre-cast stairs can be dropped in from above via this platform, providing even more storage space.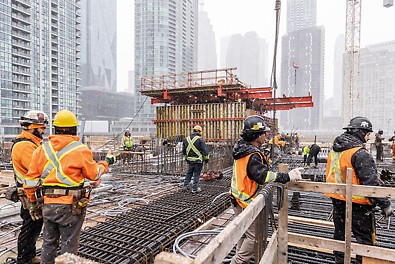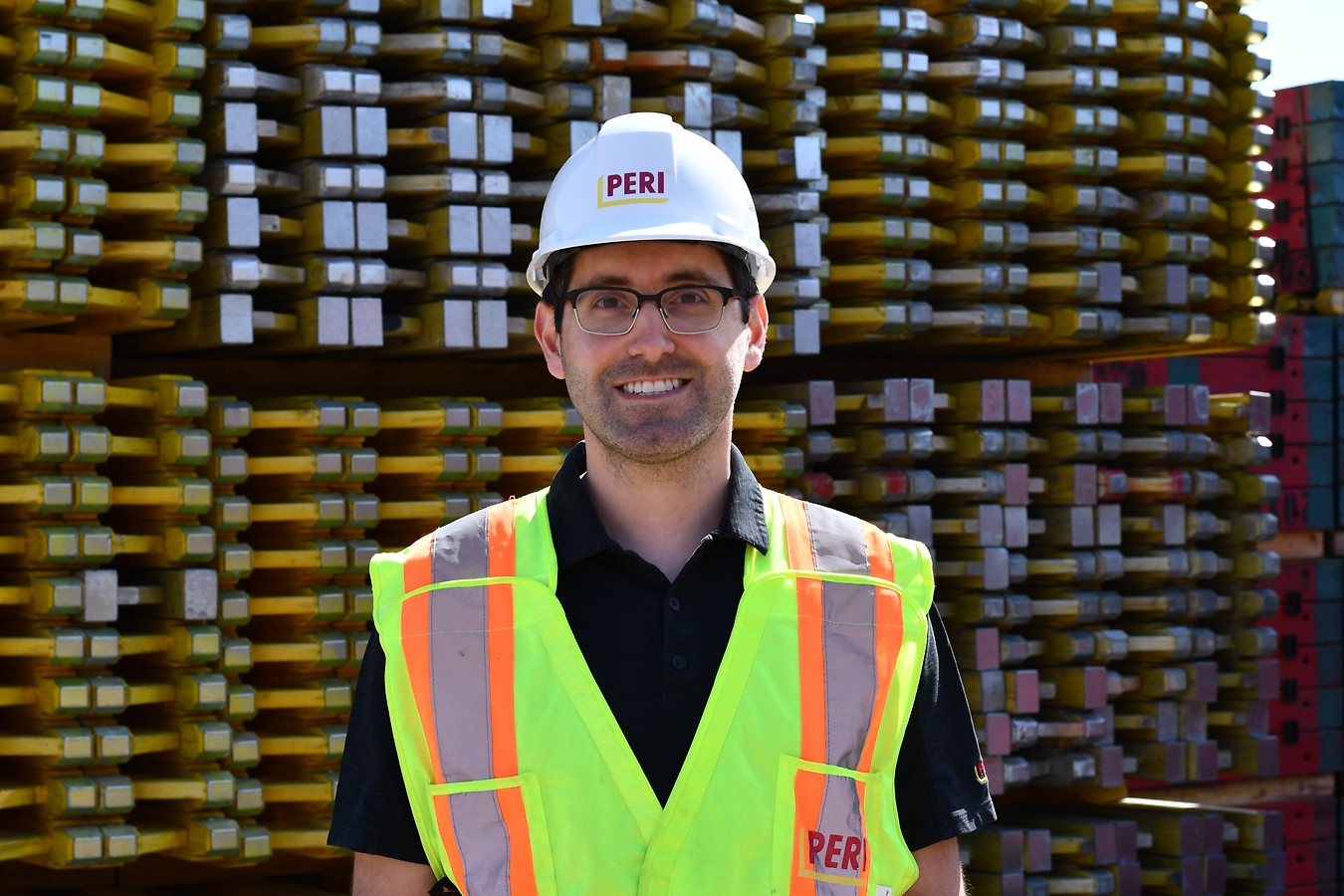 Oliver Ibrahim
Climbing Systems Manager
|
PERI Canada
"It's important to look at every aspect of the construction cycle to identify solutions which can help boost productivity and safety."
Oliver rubs his cold fingers together and continues: "We are not only accelerating the contractor's construction schedule but taking safety to another level. Our façade enclosure system will offer protection against strong winds and harsh weather conditions while providing safety to the public and construction site below".
He goes on to say: "Storage space of formwork and site material is also very important at the top of the building to avoid wasting crane time moving elements down to the ground. We created a plan which utilizes a gallow system to enable all shear walls of the building to be suspended and climbed in place. Together with the core climber, these two systems dramatically save on both crane time and storage concerns." he explains contentedly and looks around, the site manager wants to talk to him to discuss the schedule. "One sec, I will be right there!" he says with a smile and leaves.
Meanwhile, our photographer, Achim is constantly working away with his camera, documenting the construction from as many angles as possible. "It is snowing again", he sighs, and cleans the lens of the camera.