PERI Systems and Services for Industrial Construction and Plant Construction
For use in industrial environments, a high degree of adaptability and occupational safety is required. These characteristics are two long-standing strengths of our PERI solutions.
Find out more about our systems and reference projects on the PERI website for your country.
The PERI Integrated Scaffolding Programm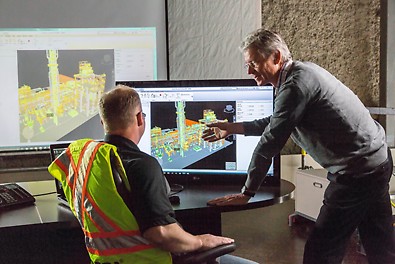 Your Challenges - Our Solutions
We supply project-specific solutions for large industrial construction sites - reliable, flexible and efficient. See for yourself.
What We Strive for Every Day
Providing our customers with the best possible service is what we strive for every day. Our customers' appreciation is the proof that we endeavour to achieve this every day.
Kobus Olwagen

Contracts Director, WBHO Construction (Pty) Ltd, Johannesburg, South Africa

OTMS Tank Farm, Saldanha, South Africa

We wanted a partner on-board early in the project with whom we could work together on the solution. With PERI and the VARIOKIT system, we certainly made the right choice. It's definitely the best system, and I cannot imagine that we could have done it better or quicker with any other system.

Kyle Morden

Construction Manager, Fluor Canada Ltd.

Northwest Redwater Project (NWR), Edmonton, Canada

There are a number of challenges in the industry, period just in regards to cost. With PERI UP system scaffold we get the usually in the scaffolding market high direct labor cost down. The partnership and the support has been absolutely phenomenal – to ensure that the productivity and efficiency has all been met and our targets are on track.
Strong Partner for Complex Projects
You need a strong partner for your project? Simply visit the PERI website of your country and contact our local colleagues.